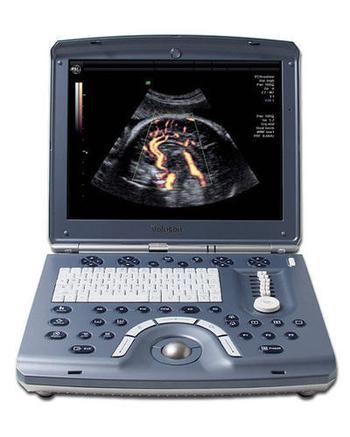 Caratteristiche GE Voluson E
Compact Volume Ultrasound from GE Healthcare is a major breakthrough in diagnostic technology.
Now, the undisputed global leader in women's healthcare introduces VOLUSON, a compact solution that makes volume imaging available to an even wider range of practitioners.
Its light, portable package provides flexibility to serve your patients in any care setting. Ergonomic design makes it easy for your staff to use.
Best of all, you get stunning image performance that improves your diagnostic confidence. In short, just what you expect from a Voluson ultrasound unit.
Small in size. Huge in capability.
Full-size Voluson technology – miniaturized.
By integrating Volume Ultrasound into your daily practice, you can clearly see even the smallest anatomical details with unprecedented clarity.
The more you see, the more you know.
Optionally VOLUSON can be equipped with features in order to capture volumetric data in one simple sweep across the target anatomy.
Volume Ultrasound lets you reconstruct and analyze the exam anytime, anywhere – just as if the patient were still there. You can process the information in different planes, examine images using multiple views, take measurements, and more. Rescans are reduced, saving patients' time – and yours.
And VOLUSON gives you much more: 4D Imaging provides the ability to see three-dimensional movements in real-time, gives you more and better information for the right clinical decision. Speckle Reduction Imaging (SRI) suppresses speckle artifact without obscuring true tissue architecture. You see organs, tissues, lesions and borders with unprecedented clarity and resolution. CrossXBeam™ Imaging (CRI) enhances tissue and border differentiation with an exclusive spatial compounding acquisition and processing technique.
VOLUSON builds on our commitment to annual breakthroughs that redefine ultrasound technology – for your benefit and that of your patients.
From full-sized console Voluson systems, we have moved rapidly to the compact VOLUSON, loaded with Volume Ultrasound tools that you can carry straight to the point of care. We continue to develop new ultrasound technologies and accelerate the introduction of new imaging applications that expand your diagnostic power.
Configurazione
Ecografo portatile GE Voluson E
Sonda Convex
Sonda Lineare
Carrello originale con multiconnettore